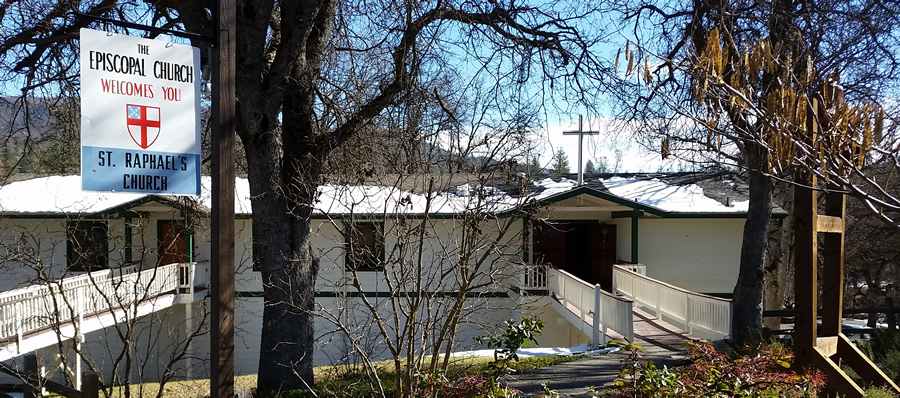 …whoever you are, wherever you find yourself on your journey of faith, there is a place here for you.
We are a Christ-based Episcopal congregation that welcomes … for full participation… all people of every race, age, color, national origin, ancestry, sex, gender, disability, sexual orientation, gender identity and expression. We are a congregation who believe we are blessed by the gifts of all people and a congregation that welcomes and accepts our individual differences.
Building on our Episcopal heritage of Scripture, Tradition and Reason, we strive to become loving people of God.
Despite the Covid-19 Challenges
we continue tomeet each Sunday at 10 AM

On the first, third and fifth Sundays of each month we meet by Zoom for Morning Prayer at 10 AM, followed directly by fellowship and discussion of our ministry challenges.

On the second and fourth Sundays we join the Saint James Episcopal Cathedral YouTube Morning Prayer service at 10 AM then join our congregation by Zoom at 11 AM for fellowship and discussion of our ministry challenges.
Please Join Us for One of Our
Sunday Morning Services
at 10 AM
… then stay around for our friendly
fellowship immediately following the service.
During these challenging times communications can be fragile.
To get Zoom links to the services and to otherwise be kept up-to-date we invite you to subscribe to our Facebook page.
Saint Raphael's Episcopal at ECCO
43140 Highway 41
At the Entrance to ECCO Conference Center
One-Half Mile Past the Bass Lake Turnoff (Road 222)
Post Office Box 13
Oakhurst, California 93644

"The Episcopal Church Welcomes Everyone!"
Link to ECCO, The Episcopal Conference Center at Oakhurst California
Link to Saint James Episcopal Cathedral Sunday Services
Link to Free Download of the Diocese_of_San_Joaquin_Disaster_Preparation_Book
Information Phone 559.683.4023

[Map Link]
"The Episcopal Church Welcomes Everyone!"